At the ancient times the island was called "Oliaros" meaning wooded mountain. Today, Antiparos is famous for its beautiful, emerald coloured beaches. Monuments and symbols reveal a unique culture. The creators of the Cycladic civilization lived here.
A tour to the island of Antiparos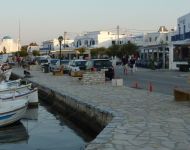 Reaching Antiparos with the ferry (only 6 minutes from Pounda), or by boat from Parikia (30 minutes), the visitor is faced with the graphic port of the island, the small fishing boats and the many tavernas and caf es. From there on, there is the main street of the island leading to the main square of Antiparos and the Venetian Castle.
All through this path, which is full of nice smells, co lors and local people famous for their hospitality and warm welcoming, the visitor can rest in nice tavernas and cafes and do some shopping of traditional goods of the island. The entrance of the Castle is at the square just besides the church of Saint Nicolas. The houses in the Castle (kastro) are still occupied by local families, while the main building of the Castle has been left only with its base.The Castle (kastro) has been constructed in 1440, to protect the local inhabitants from the pirates.
It was a square structure, the external perimeter of which consisted of low rise houses, one next to the other, while a circular tower was built in the center, being the residence of the local governor. The walls of the houses served as the walls of the castle.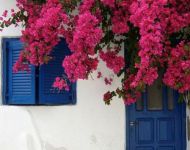 The village of Antiparos, the homonymous capital of the island with a population of 1150 people, outspreads all around the imposing castle, offering an unparalleled view. The stone paved broad streets, the white washed alleys, the flowered houses and the commodious square with the eucalyptus, compose a beautiful icon. The settlements of Agios Georgios, Apantima, Glifa and Soros as well as the surrounding islets are definitely worth visiting.
At the center of the island, up to the Ai Giannis hill, the visitor can find the impressive Cave of Antiparos. A cave with stalagmites and stalactites can't help being a natural wonder, and a sight to see. It is known that throughout history, people used it as a refuge until they started building houses, and later on as a place of worship. If finds dating back to the Stone Age had been discovered there, it also would have had some archaeological interest.
Antiparos' cave has a uniqueness, not only because of it's enchanting stalagmites, which took thousands of years to form from water eroding the limestone, but also because of its strong connection with the history of the island.
Cave is accessible with local busses and by car through the main peripheral road leading to "Apantima", "Soros", "Glifa" and ends to the area of "Agios Giorgis"